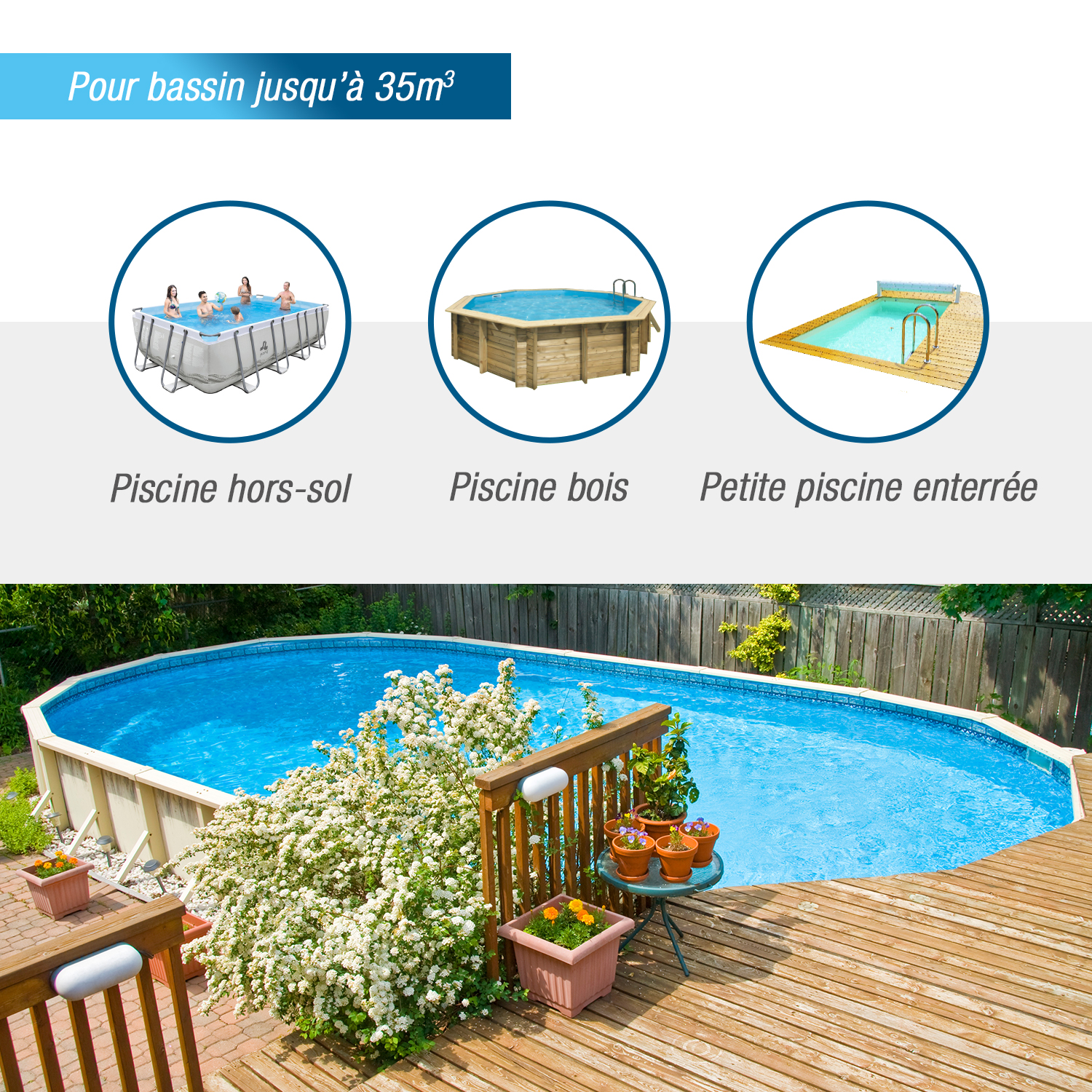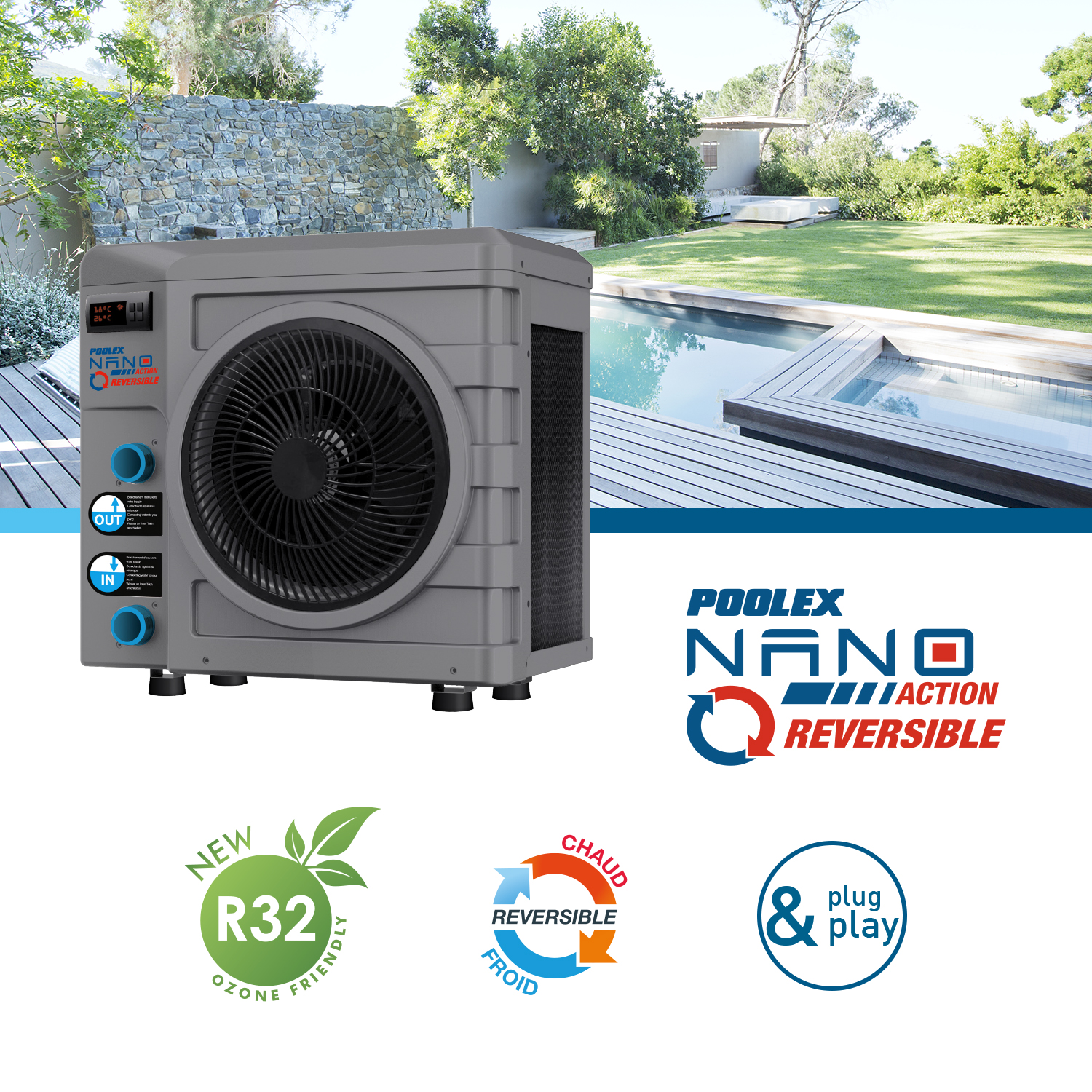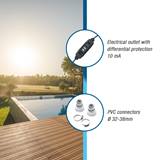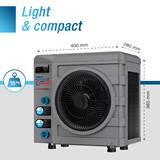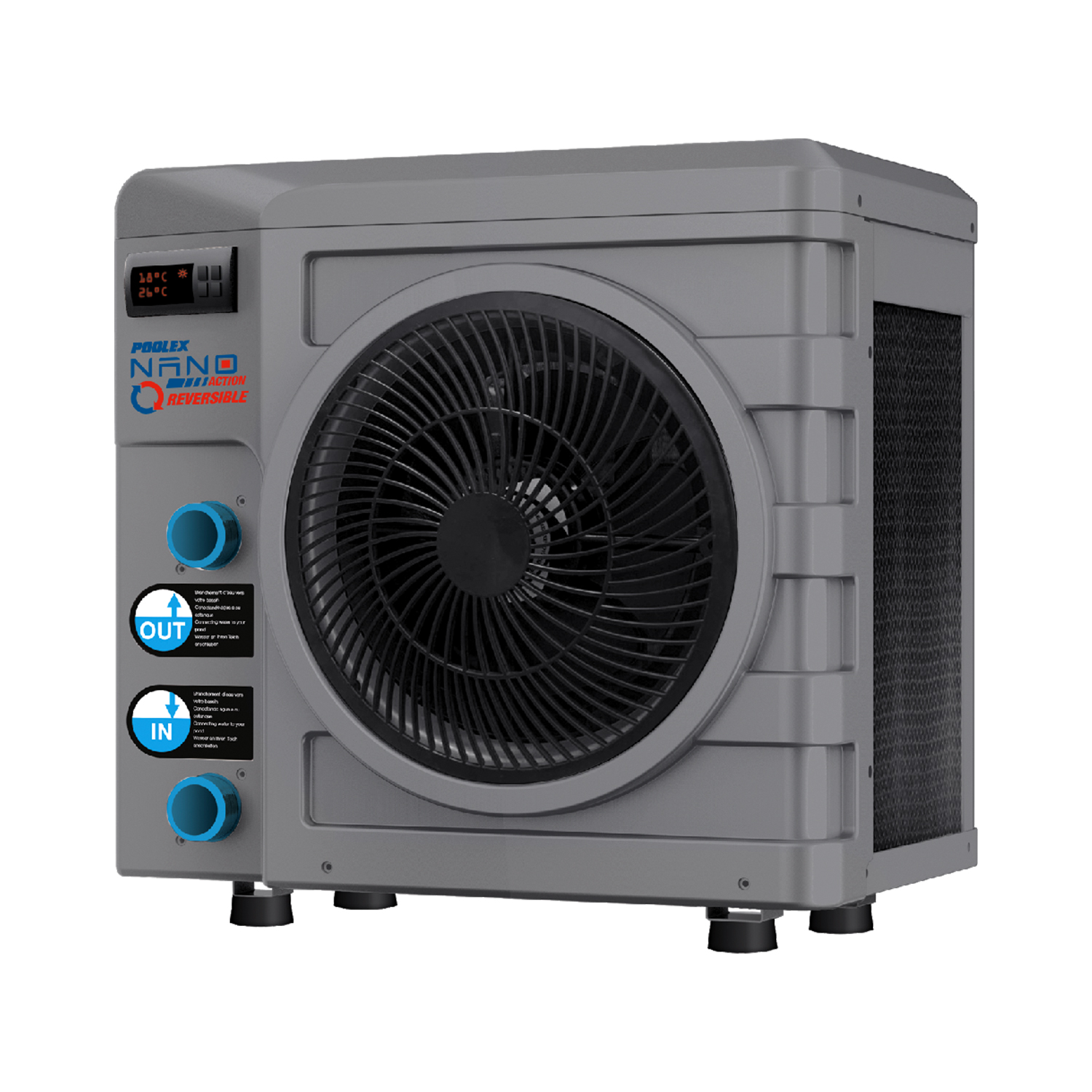 Heating / Heat Pump
Nano Action Reversible
Above ground swimming pool heat pump
3 capacities | For pools up to 35m3 | Operates down to -5°C

Transportable

Plug & Play

Toutes piscines hors sol
Why choose the Nano Action Reversible to heat up your small swimming pool
The ideal reversible heat pump for swimming pools up to 35m3.
Even more efficient, the Nano action Reversible outperforms all its rivals thanks to its reversible mode able to operate until -5°C.
With its 32/38mm and 1'' connectors, it can be connected in just a few seconds to any standard filtration system, be it an above ground or in ground swimming pool, or a spa.
Simply plug in your heat pump and let your swimming pool get warm or cool off.
Designed with the same specifications as a premium heat pump, it features the same efficiency in an ultra compact casing. Its light weight enables anyone to carry it easily.
Heats up and Cools down
The Nano Action Reversible has nothing to envy any to larger heat pump. Thanks to its reversible functionality, the Nano Turbo has the capacity to cool down and heat up the water in your pool. This is particularly useful for small above-ground pools where the water tends to heat up quickly under the action of the sun's rays, with a risk algae spreading on the liner.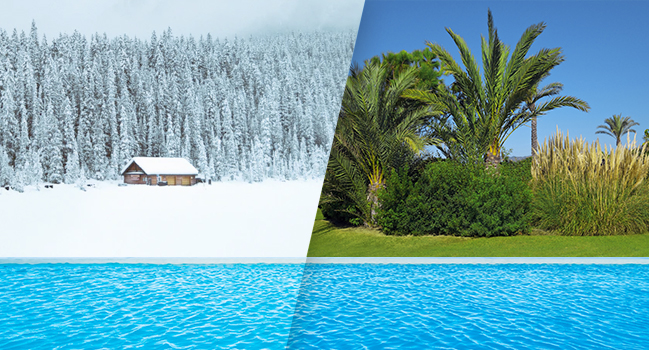 Plug & Play
Thanks to its Plug & Play functionality, the Nano Action can be installed quickly by simply plugging it into a mains socket. Depending on the filtration system, it can be connected without a bypass.
The 5-metre cable is fitted with 10 mA differential protection to ensure safe use.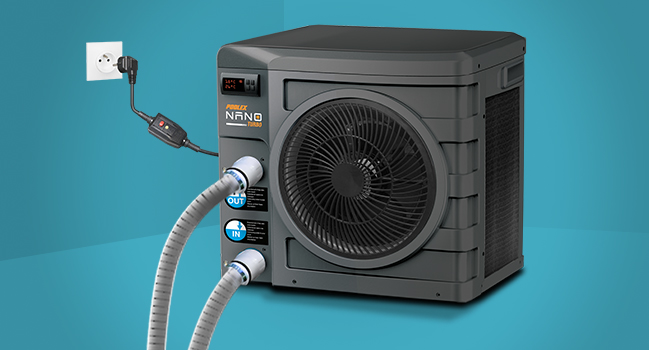 Ultra compact
As a heat pump dedicated to small pools and above-ground pools, the Nano Action knows how to be discreet with its reduced dimensions of 40 cm wide by 39 cm high. It installs next to the swimming pool and blends in with the decor.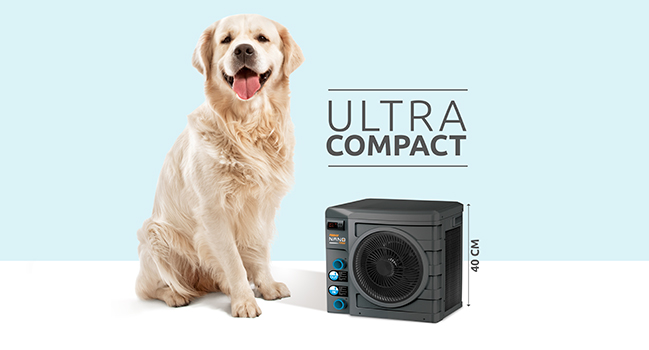 Connects to all above ground pools
Compact and equipped with functionalities designed for ease of use, the Nano Action heat pump fits perfectly with the trend of above ground pools which can be installed and heated in just a few hours.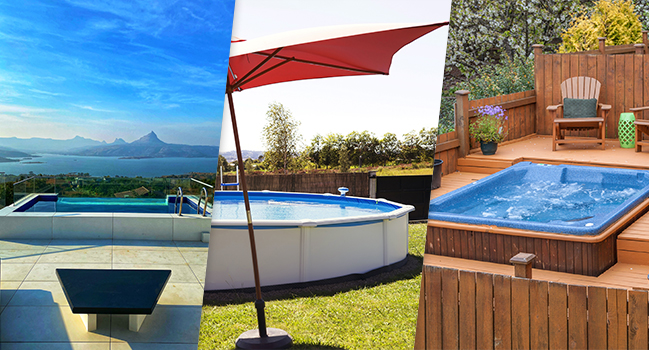 Model
Nano Action Reversible 3
Nano Action Reversible 4
Nano Action Reversible 5
Pool volume (m3)
From 10 to 21
From 15 to 28
From 20 to 35
Condition:
Air 26°C
Water 26°C
Hygro 80%
Capacity (W)
3,100
4,200
5,010
Power Consumption (W)
540
760
910
COP
5.61
5.50
5.50
Condition*:
Air 15°C
Water 26°C
Hygro 70%
Capacity (W)
2,200
3,100
4,030
Power Consumption (W)
490
690
900
COP
4.51
4.50
4.50
Power supply
Mono 220-240V/50Hz
Heating temperature range
15°C ~ 40°C
Cooling temperature range
8°C ~ 28°C
Operating range
-5°C ~ 43°C
Max. power (W)
900
1,200
1,500
Flow (3/h)
2
2
2.5
Refrigerant
R32
Packaging dimensions (mm)
460x370x415
Dimensions (mm)
400x280x385
Net/gross weight (kg)
18 / 20
25 / 29
26 / 30
Noise at 1 m (db(A))
<53
<55
<56
Noise at 10 m (db(A))
<33
<35
<36
Compressor type
Rotary
Compressor brand
Toshiba
Heat exchanger
Twisted Tech© Titanium
Operation
Heating / cooling
Load loss (mCE)
0.8
HP
Accessories included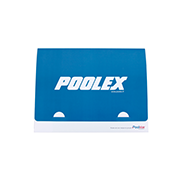 Maintenance kit including multi-language user anual.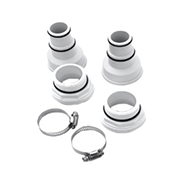 Ø 32-38 mm PVC connectors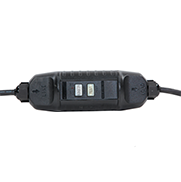 Differential current power connector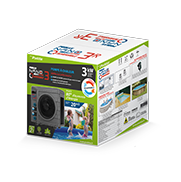 Glossy coloured packaging
Find a reseller